Driving around in a small car, on small narrow roads, fishing a small stream using a light weight fly rod and small flies for small fish in a small country was most definitely a big change from what I am used to in northern BC. During a visit with family in Devon, England in August 2011 I managed to slip away and experience some of the small stream fishing south western England has to offer.
Fly-Fishing in Devon, England
I chose this fishery as the catch return reports for the beat looked promising – for 2010 the average number of brown trout caught per rod day was 6.2 fish, with the largest an 'enormous' 11 inches. Then there was also the chance of catching a European grayling. The reports indicated that about a half dozen grayling had been caught every week. Overall, it looked like this beat was one of the better public beats in Devon and could be my best option to land a brown trout on European soil and catch my first European grayling.
I set out on an atypical English morning with bright blue skies and the sun beating down on the river, and started working my way upstream. The River Lyd is a very small stream – smaller than the Crooked. As a spate or rain fed river it usually has crystal clear water but can be blown out during heavy rainstorms. The River Lyd and most of the other Devon streams originate either in the Dartmoor or Bodmin Moor uplands. The hard granite rock and thin soils of the area are the primary reason for the nutrient poor streams and their smaller vertebrate inhabitants. Nevertheless, the clean water of the River Lyd, with its gentle flow and large overhanging trees provides for a classic small stream fly fishing experience.
To be successful, a stealthy gentle approach is required since the fish there can see the angler long before you see the fish. Armed with a three weight fly rod and an arsenal of small nymphs tied on size 16 and 18 hooks I moved among the shadows of the trees along the shore line to avoid detection. This also necessitates casting upstream with a long leader of about 15 feet that tapers down to a minimum of 6x tippet.
Throughout the day I managed to catch brown trout at regular intervals. However, the average size of fish varied between six and seven inches – small, but typical for Devon. Some of the brown trout came out a small pool that also had a few grayling. This pool, triangular in shape, covered about 30 square feet and at its deepest , the water was only about waist high. By BC standards it was not a big pool at all, but it did hold at least a half dozen small brown trout and from what I could see, at least three grayling. Having already caught a number of brown trout I only had to 'check off the box' for European grayling. This was also my first sighting of the Thymallus thymallus (European grayling) and I decided to spend some time at this pool. I threw everything but the kitchen sink at the grayling but nothing could entice them, but the little brown trout were quite willing to cooperate.
A few days earlier while in London, I had stopped in at Farlows (established in 1840), the oldest fishing store in the world, located on Pall Mall. There I stumbled upon a book on European grayling: Flyfishing for Grayling by John Roberts. Quickly reading this book before my trip out to Devon, I learned a few keys facts about these fish that proved useful: They can be quite picky, and will take nymphs very gently, especially in the West Country (Cornwall and Devon), and if they are not interested leave the pool and come back later and try again. This is in stark contrast to its cousin the Arctic grayling (Thymallus arcticus) of North America that is not picky at all.
So after about 45 minutes without success I decided to move on and come back later in the day. Moving upstream a few more brown trout were fooled by a #18 bead head pheasant tail nymph. Among these was my biggest of the day, a fish of nine inches ... but my mind kept wondering back to the pool with the grayling.
After a little more than an hour, I made my way back to the pool. This time as soon as I got close enough, I kneeled down in the water to be less visible and improve my chances. On the first cast my leader moved, I lifted the rod tip and with my heart in my throat I exclaimed to myself "Got ya", but I soon realized that it is another six inch brown trout! A few more casts and about ten minutes later the leader slowed down just ever so slightly – European grayling will sometimes take a nymph very softly, almost undetectable, another important tip I gleaned from my new book. I lifted the rod tip and this time I could feel that the fish was much heavier… much much heavier. It was a grayling! It rolled back and forth, darting around the small pool trying to free itself, but it underestimated the guy on the other end of the line. This was my chance at a European grayling and I was not going to let it win the battle. So I gently massaged it in closer and closer until it was safely in my hands.
To fish anywhere in England you will need an Environment Agency (EA) licence that is available at any Post Office. An eight day licence will set you back ten pounds or approximately CAD$18. However, unlike in BC you cannot simply walk up to any stream and fish it. In England the fishing rights of a river are usually owned by the landowner, a fishing club or a society, and if the stream is open to the public an additional fee will be charged to the angler. This fee can be as little as 10 pounds and may be as high as 300 pounds depending on the quality of the fishing and the reputation of the river. Famous rivers like the Test, Avon, Itchen and Spey cost an arm and a leg if you want to fish them.
In Devon the West Country Passport program (www.westcountrypassport.com) allows the average Joe, both local and foreign, to access river fishing at a reasonable price. At an affordable 12 pounds or approximately CAD$20 you can book a river beat. This is very reasonable compared to the $500 a day it can cost to access a public beat on one of the famous chalkstreams like the Test, Avon and Itchen in Hampshire. Another benefit of fishing the streams in Devon is the acceptance of practicing catch and release, unlike the Hampshire chalkstreams where a kill fishery is in place. With a kill fishery you are usually only allowed to catch two to five fish, depending on the beat. If you catch your limit within the first five minutes you are done for the day, and at $500 it can be an expensive five minutes.
In 2011 there was a choice of six river beats from the West Country passport website and I decided to book a beat on the River Lyd that flows through Sydenham Estate. The estate was built in 1602 by Sir Thomas Wise and has been used over that last hundred years as a gathering place for both fishing and hunting parties.
Although I had a great time fishing in Devon, my experience in England reminded me of how good we have it in Canada. Living in northern BC we sometimes forget how lucky we are to live in a wilderness. A wilderness where we can drive to any river or lake when ever we desire so and where an 11-inch fish is the average, if not on the small side.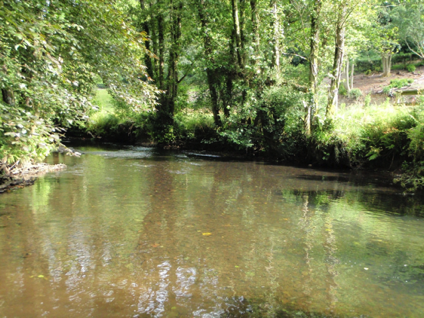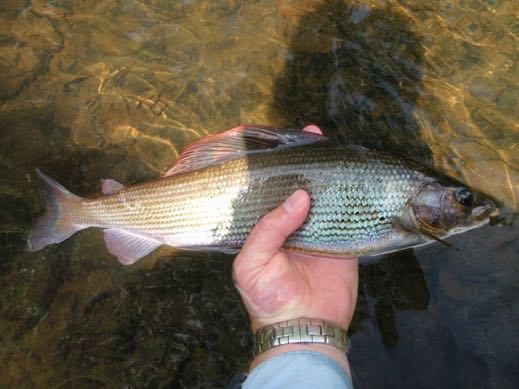 On my way to the River Lyd (this is a two-way road)
Typical brown trout from the River Lyd
My first European grayling